Since I'm not going to be knitting a toy for awhile...
...I thought I'd post a photo of one I knit in August. OK, I'm just excited because my friend (to whom I gave it) finally sent me the photos. Sorry if this is too self-promotion-y. Just let me know.
Presenting Robin the Baby Spider Monkey: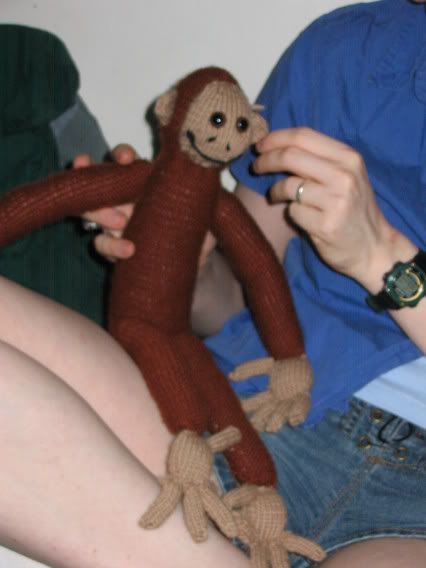 Details:
Pattern: Baby Spider Monkey from The World of Knitted Toys
Yarn used: Knitpicks Merino Style in Cinnamon (body) and Nutmeg (appendages, face) I couldn't find a fuzzy yarn to use for the body, but the smooth yarn worked out just fine.
Completed: August 1. And it was tedious knitting. So many little parts (e.g. each separate finger) Lot's o'seaming, back when I wasn't so good at it. He's cute, though. Named after Robin Williams. (Hairy-Back Man!) Again, note the wonky face. I was in a rush to complete it, though.
--Megan